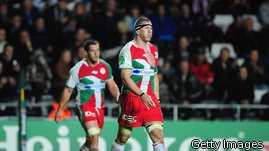 Wednesday, 30 November 2011 14:58
The father of Imanol Harinordoquy brought the Top 14 Basque derby between Biarritz and Bayonne to a halt by running onto the pitch to defend his son.
According to AFP, France international Harinordoquy's father came down from the stands in the sixth minute of the Tuesday night clash and faced up to Bayonne flanker Jean-Jo Marmouyet after his son got involved in a punch-up far from the action.
Harinordoquy senior's admirable sense of family loyalty was brought to an abrupt halt by Bayonne fly-half Benjamin Boyet, who tackled him to the ground before Biarritz hooker Benoit August stepped in to restore order.